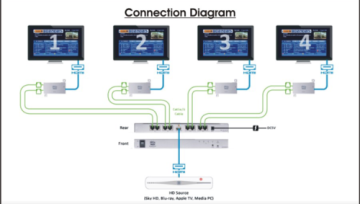 HD distribution over coax, CAT5e and CAT6 cable
It is now possible to distribute High Definition around your home via HDMI from all your devices including Sky HD, BluRay, Apple TV – or simply any device that has a HDMI output. Our friendly and professional team can help you with connecting one device such as your SkyHD box to a second TV. This would be done using an existing coaxial cable to distribute to multiple devices around the house using the latest CAT6 cable and/pr HDMI Matrix Switch. The Aerial Team offer HD distribution services across the whole of North Yorkshire.
The Aerial Team will constantly be in consultation with you, the customer! Ensuring we are designing, supplying and installing the most appropriate system that is specific to your needs. We will talk you through the setup process and ensure you are fully competent with the system installed.
Our team provides a professional, first class service from initial enquiry, through to install and aftercare. We fit only the highest quality parts, and guarantee all of our work for 12 months.


HD distribution over coax, CAT5e and CAT6 cable across North Yorkshire
Our expert engineers cover the whole of North Yorkshire including: Ripon, Knaresborough, Harrogate, Wetherby, Boston Spa. Tadcaster, Collingham, Masham, Pateley Bridge, Bedale, Leyburn, Catterick Village, Catterick Garrison. Brompton on Swale, Richmond North Yorkshire, Reeth, Leeming Bar, Northallerton, Darlington and Barnard Castle.