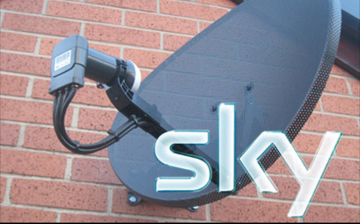 Satellite dish installation Northallerton
Unlike Sky engineers we are fully insured to work at heights and in lofts. We will run cables discreetly in gutters, under carpets, through built-in wardrobes and throughout lofts, providing you with a neater installation that is aesthetically pleasing. We will assess where is the best location to site your dish, ensuring you have the strongest signal possible in the most discreet position possible. The Aerial Team are ready to help with your satellite dish installation in Northallerton and surrounding areas.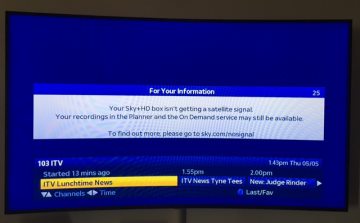 Sky and BBC Freesat repair
Are you experiencing a broken picture?
Are you missing channels?
Or are you losing your signal at a key stage in your favourite programme?
If so one of our friendly engineers can help. Your signal issue could be as simple as your dish has blown off alignment or a tree could have grown that bit too much. Maybe your gardener has cut through a cable or your family pet has chewed a cable?
Whatever the cause, we can help. We carry a state of the art digital meter to test your signal and diagnose the problem. Our vans are fully stocked with all parts needed to get your signal strength back up and improve your viewing experience.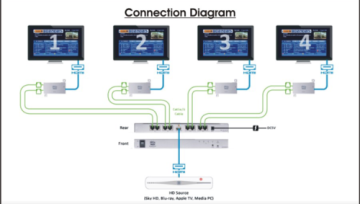 Sky distribution around the home with no increase in subscription
Here at the Aerial Team we can distribute sky around your home using your existing Sky box over many different formats and best of all there will be no increase in your monthly subscription, yes that's right nothing more to pay.
This is a very good system and provides you with the use of your existing Sky package in any room with full control of your Sky box, anything you can do at your main TV you can now do at any TV around your home and unlike Sky Multiroom which costs a lot more for the installation and an extra £10 per month per room your subscription will stay the same.
Satellite dish installation Northallerton and surrounding areas
Our expert engineers cover the town of Northallerton and the following areas: Ainderby Steeple, Aldwark. Bagby, Bedale, Boltby, Borrowby, Brompton, Burneston, Burrill-cum-Cowling, Byland Abbey, Carlton-in-Cleveland, Carthorpe, Coxwold, Crakehall. Danby Wiske, Deighton, Exelby, Fadmoor, Farndale, Felixkirk, Great Fencote & Little Fencote, Great Langton, Herworth, Hornby & Hackforth. Hutton Bonville, Hutton Rudby, Ingleby Arncliffe, Kilburn, Kirby Knowle, Kirby Sigston. Kirby Wiske, Kirby Fleetham, Kirkbymoorside, Kirklington, Leeming, Masham, MortononSwale, Newby Wiske. Newton-le-Willows, North Cowton, North Otterington, Old Byland, Oldstead, Osmotherley. Patrick Brompton, Pickhill, Potto, Richmond, Rievaulx, Romanby, Scawton, Scorton, Scruton, Snape. South Otterington, Sowerby, Swainby, Theakston, Thirkleby, Thirlby, Thirsk, Thornton Watlass. Thornton-le-Beans, Thornton-le-Moor, Thrintoft, Upsall, Warlaby, Wass, Well.