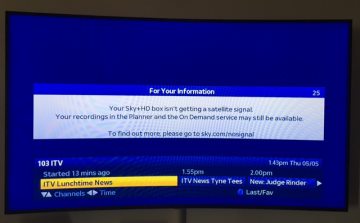 Sky and BBC Freesat repair
Are you experiencing a broken picture?
Are you missing channels?
Or are you losing your signal at a key stage in your favourite programme?
If so one of our friendly engineers can help. Your signal issue could be as simple as your dish has blown off alignment or a tree could have grown that bit too much. Maybe your gardener has cut through a cable or your family pet has chewed a cable?
Whatever the cause, we can help. We carry a state of the art digital meter to test your signal and diagnose the problem. Our vans are fully stocked with all parts needed to get your signal strength back up and improve your viewing experience.